An exciting new STRETCH program coming to Mindful Movements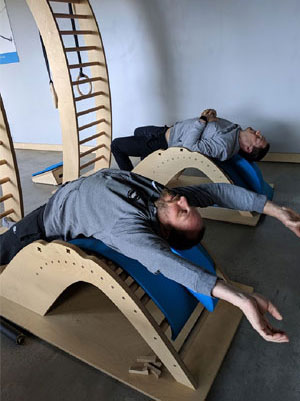 Stretching has been practiced for millennia in various forms. Stretching equipment has also been used for centuries because it is well known that when the body is gently supported, it releases. It's called "positional release." The StretchFit approach uses modern equipment to target specific muscles and facilitates maximum support and relaxation in each stretch.
You can't get it wrong, and you can't feel silly because it's focused and easy.
It's a stretch experience like no other. You'll feel like a well-oiled machine again!
• Everybody needs to stretch and be able to do so affordably. Thus, Stretchfit® creator Anthony Lett built a range of elegant and simple equipment to make it safe, anatomically based, and effective.
• There's no guessing "am I doing it right" and no dogma. Our sessions are truly for everybody. They are all about the person, not the pose.
• For injury prevention, rehab, stress reduction, pain management, sports recovery & performance enhancement, and of course, for anyone who wants to feel great again, there's simply nothing like it!
• The StretchFIT® program can be incorporated into any private or semi-private lesson or schedule a session simply to stretch your muscles.
Benefits of stretching
• Stretching is well known to maximize sporting performance and recovery
• Stretching induces the "relaxation response," counterbalancing the negative effects of stress like elevated blood pressure, narrowing of arteries, and depressed immune function.
• Improved range of motion
• Neck and shoulder tension relief
• Stretching changes your postural alignment, reducing strain on joints, overworked muscles, and provides a sense of ease and poise.